"

Mesmerizing, intricate, anthemic . . . One of New York's most eclectic, interesting oudists"
In 1998, a series of events started me on a musical journey that would profoundly affect my life and music in ways I could never have predicted.  Living in New Orleans at the time and working as a jazz guitarist, I got a ride with a cab driver.  He was Lebanese, if I recall correctly, and we had a nice conversation about music.  He asked what kind of music I played, and we discussed jazz and guitar a bit.  As we neared our destination, he told me: "the guitar is nice, but if you want to play the most beautiful instrument, listen to Marcel Khalife."  As a musician, you get used to people giving you odd suggestions and nonsensical advice, so I didn't think too much about it—I had never heard of the instrument he was talking about. 
I was a fairly adventurous listener at the time, and in the days before streaming and YouTube, you were actually gambling with dollars whenever you picked up a new album that you hadn't heard.  Consequently, one tried to find ways of hearing new music before purchasing.  The university music library was one such resource — there was an impressive assortment of classical, jazz, and "world" recordings.  Also, Tower Records would let you listen to some new releases.  But the real hero was Blockbuster Music (yes, they had actual record stores) , who would let you listen to any album in the store.  So it came to pass that through various sources, I wound up with albums by Hamza el Din, Rabih Abou-Khalil, Ahmed Abdul-Malik and Anouar Brahem.  I found the music deeply engaging, but it was the sound of the instrument that drew me in and I began to look for other music featuring the oud.  There weren't a lot of options; at one point I was going to the Lebanese grocery store and buying any cassette that had a picture of an oud on the cover (hit and miss).  After about a year of this, I decided I needed to find an oud and try to play it, which I did. Coming from guitar, it wasn't terribly difficult to get a moderate level of facility and soon I had started adding some oud to my performances.

At some point I heard a recording of the Palestinian oud virtuoso Simon Shaheen and was astonished at the power and beauty that the instrument was capable of in his hands. It was far beyond what I had heard up to that point, and realized that I had dramatically underestimated the sophistication and subtlety the oud demanded.  To my surprise and delight, while searching for oud-related information on a then-recently-introduced tool called "the world wide web" or simply "the internet," I discovered that Simon Shaheen actually led a music retreat every summer in Massachusetts and resolved that I had to attend and learn oud fro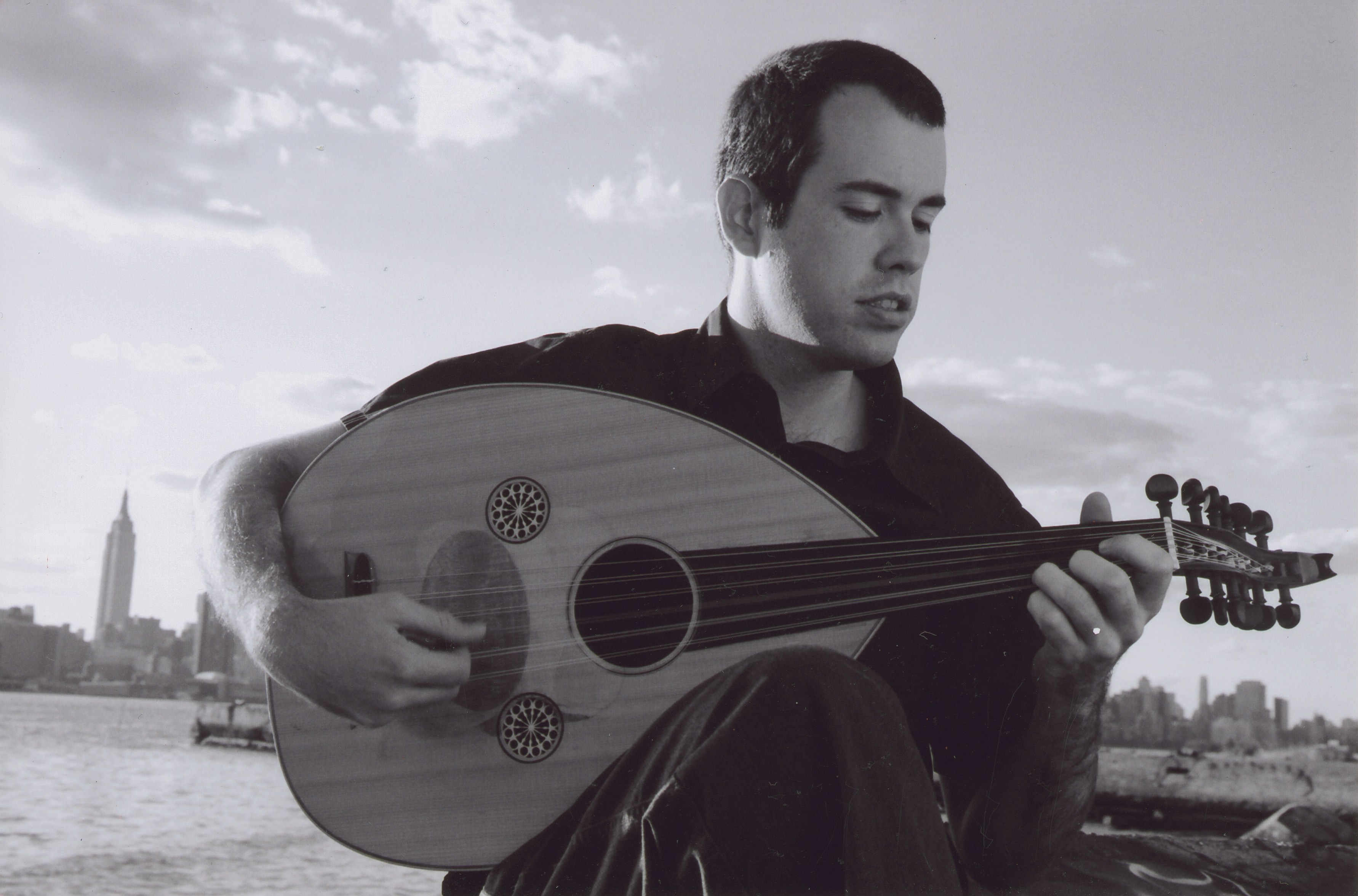 m this musical master.  The welcome provided by Simon and the rest of the Arabic music community, and the generosity with which they shared their knowledge and culture cemented my commitment to learning Arabic music to the fullest extent of which I am capable.  A couple of years later I moved to New York so that I could study with Simon and be more involved with the Arabic music community here.  Eventually this led to my actually touring with Simon Shaheen's ensemble Qantara and being the first American invited to teach oud lessons at his Arabic Music Retreat. 
Nowadays, I maintain a busy schedule in New York City as a performer; whether performing with traditional musicians and groups like Zikrayat, Wajde Ayoub, Samer Ali, the Bil Afrah Project, and the the New York Arabic Orchestra, contemporary music like Nashaz, Nano Raies, or theater, film and other projects. I also teach regularly, including online lessons, and both individual students and oud classes in NYC.

Shortly after that first Retreat, I happened to come across a recording by Marcel Khalife. That was when I remembered the cab driver from years before and finally understood what was trying to tell me — he had been talking about the oud, and he was right.
I would like to thank some of the wonderful musicians in the Arabic music community 
who have contributed to my understanding of the oud, maqam, and Arabic music: 
Simon Shaheen 
Najib Shaheen 
Bassam Saba 
Sami Abu Shumays 
Johnny Farraj 
Michel Merhej Baklouk 
William Shaheen
Charbel Rouhana  
Jamal Sinno  
Dr. AJ Racy  
Rima Khcheich  
Zafer Tawil  
Samer Ali
Al Gardner  (Alan Shavarsh Bardezbanian)