the Bil Afrah Project
The Bil Afrah Project is a diverse group of New York City musicians originally formed to celebrate the fortieth anniversary of one of the Middle East's most legendary albums: Ziad Rahbani's Bil Afrah. 
An instrumental song suite recorded by Rahbani's ensemble in 1975, Bil Afrah features some of the Arab world's most beloved standards, as well as the dazzling taqasim (improvisations) for which the Arabic tradition is so well-known. Renowned in the Arab world, the album is a favorite of aficionados and an inspiration to musicians, and its songs are performed often. But rarely, if ever, has the Bil Afrah suite been performed in its totality, live and in sequence. 
The Bil Afrah Project presents a rare opportunity to hear this masterpiece of the Arab world performed live, by an expansive Arabic-music ensemble featuring violins, bass, qanun (zither), oud (fretless lute), buzuq (fretted lute), and Arabic percussion.
Ziad Rahbani
Ziad Rahbani, the son of Lebanon's greatest singer and one of its most celebrated songwriters, was a musical prodigy as both composer and instrumentalist. He was also a cantankerous rebel with a social conscience; a communist and atheist in a society torn by religious discord; and a visionary artist beloved throughout the Arab world. His many areas of musical exploration draw comparisons to figures as wide-ranging as Bob Dylan, Serge Gainsbourg, and Giorgio Moroder, and his innovations in Arabic jazz-fusion are inestimable. Though he's relatively unknown in the west, his music deserves avid appreciation, and there's no better place to start than his rich and rewarding, yet accessible, first album, Bil Afrah.
About Bil Afrah
Bil Afrah was recorded in 1975, when Lebanon had just fallen into a brutal, sectarian civil war that would last fifteen years. At the same time, Rahbani, though not yet twenty, and assembled a group of Christian and Muslim musicians in the studio. But while he would later emerge as a protest singer and vehement social critic – Beirut's Bob Dylan – with Bil Afrah he and his ensemble delivered not scathing, politically minded song craft, but lilting instrumental versions of some of Arabic music's most cherished love songs. The resulting album conveyed a simple yet powerful message to those who would wage war over religion: that Lebanon's diverse populations could unite under the banner of their shared culture.
Live at the Kennedy Center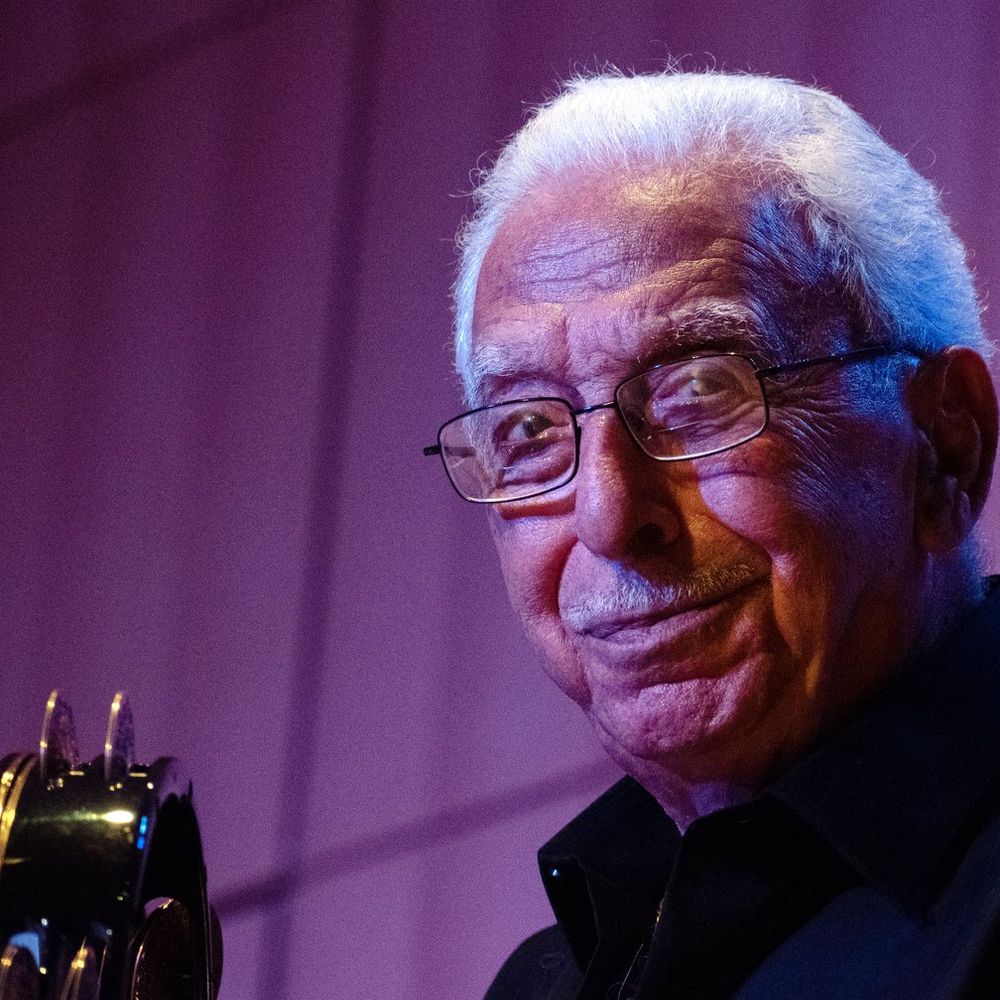 Michel Merhej Baklouk (1928-2020)
Michel Merhej Baklouk was our teacher, our band mate, our friend. Five years ago, we approached Michel with an idea: we wanted to perform a legendary album he had performed on as a way to collaborate with and pay tribute to him. Michel responded to this idea with generosity of spirit and treated us as equals. After a lifetime of extraordinary achievement, he had nothing left to prove -- he just wanted to play the music he loved and have fun. Michel treated us like family, invited us into his home, served cookies and sandwiches, shared laughs and stories, gifted us with treasured photographs and recordings. For every one of us, the experience of playing with Michel Merhej was a dream come true. Thank you, Michel, for your gentleness, your dignity, your virtuosity, your humility. We will never forget you.




(Photo by Shelley Thomas)
Memorial Tribute to Michel Merhej