UPDATE: I made a condensed "lead sheet" version of this tune for performance purposes here:
https://brianprunka.com/words/blog/7225197/update-the-astounding-eyes-of-rita-anouar-brahem
I've always been a fan of Anouar Brahem.  He's one of the first oud players I heard and is partly responsible for inspiring me to learn the oud in the first place (along with Rabih Abou-Khalil).  After met Simon Shaheen in 2001, I began exploring more deeply the more traditional style of oud music exemplified by Farid el-Atrash, Riad al-Sounbati, Mohamed el-Qasabgi, as well modern masters like Shaheen and Marcel Khalife.  I still enjoy the fusion approach of Brahem, although I haven't followed his music as closely in recent years. 
Over at Mike's Oud Forum, a member asked if anyone had the sheet music to this tune, which inspired me to listen to it again and I ended up transcribing it.   It's a really beautiful composition with some interesting counterpoint between the bass clarinet and the oud (particularly the ending).  To capture the composition, I transcribed both the oud and clarinet parts, as well as the bass line.  While I wouldn't write it exactly this way if it was intended for a performance, this seemed the best way to understand what was happening.  Where there are repeated sections, I transcribed the first pass - both the oud and the bass ad lib quite a bit throughout.  This is the version from the album, but there are a number of live versions available on YouTube as well.  It's interesting to hear the variations used in different versions to get a fuller picture of the essence of the composition.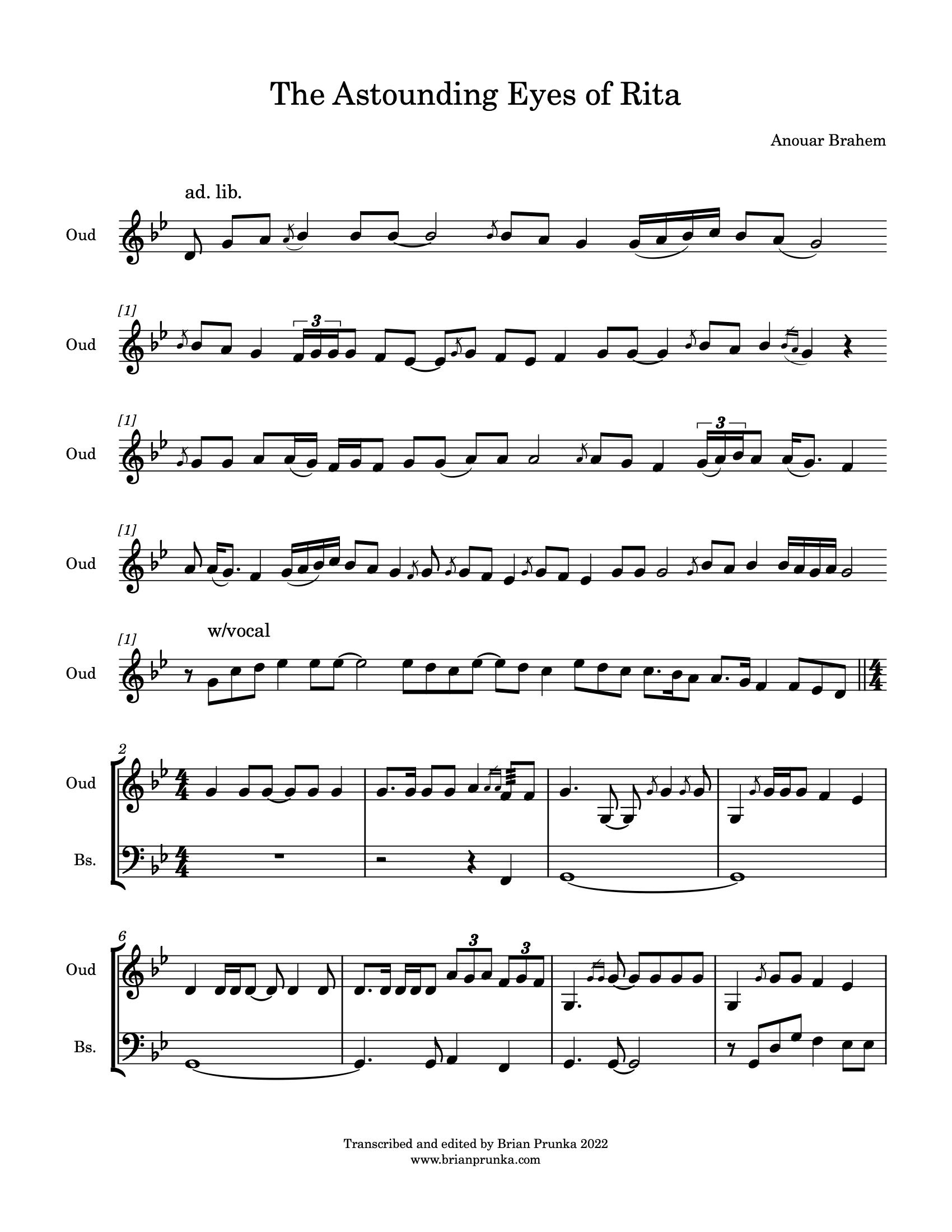 Full score sheet music here: The Astounding Eyes of Rita
Note: this transcription is my own work and provided for educational purposes only. 
If Mr. Brahem objects to my making this work available, please contact me and it will be removed.